Spermicorn
A downloadable game for Windows
Hello llama love supporters!!
This was the first Ludum Dare jam for the three of us: Fanu, Tommyflower and Jabba.
We developed this game with Unity.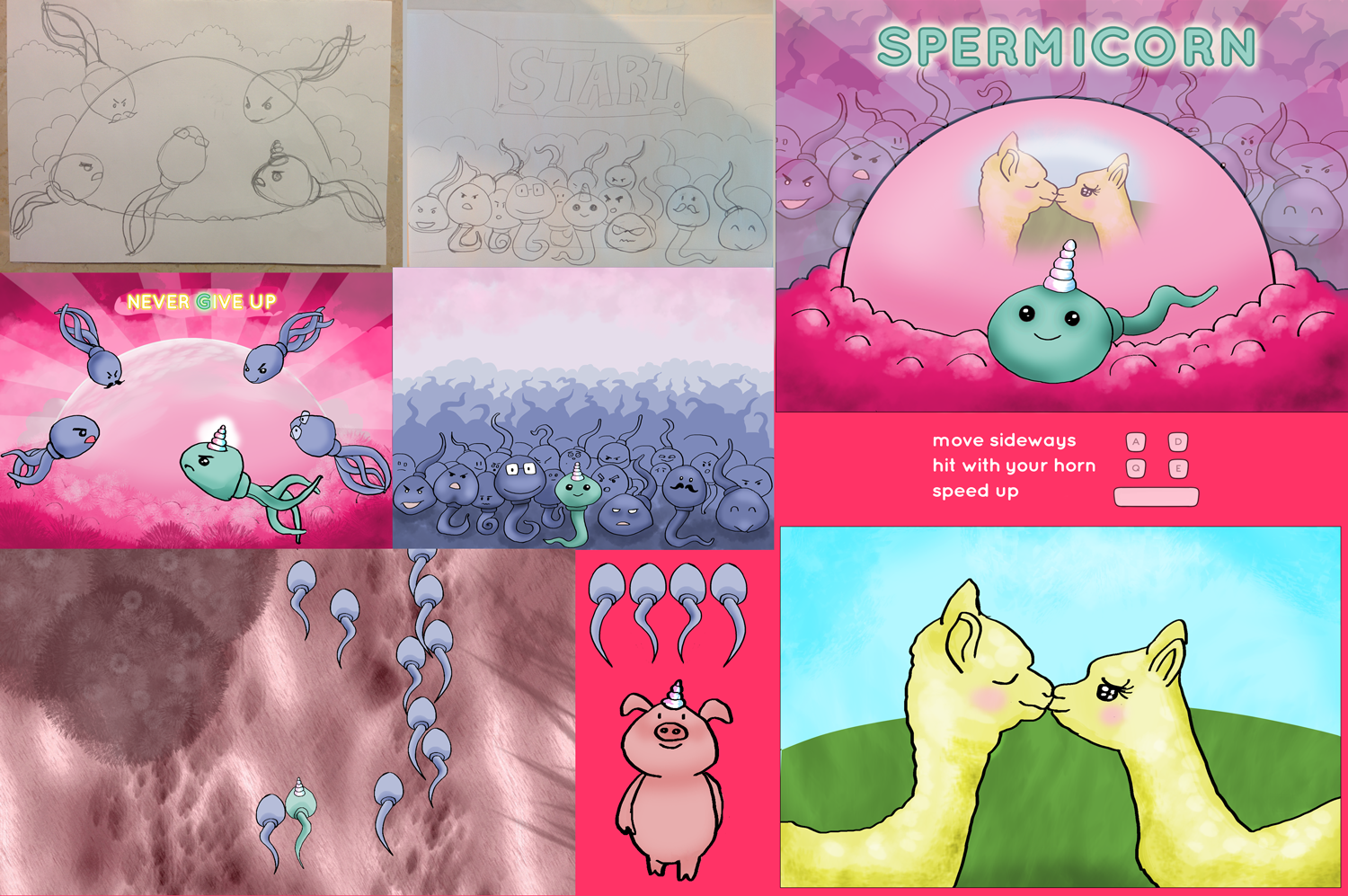 Born different
Spermicorn was born different, he lives inside a llama who has no idea he's going to change his species forever.
Help him spread his special feature!
The crazy run
You must run with a million of others like you, but you are special!
Use your sparky horn to make room for yourself but watch out for the slowing areas.
Move and hit sideways while goin' with the flow.
The sacred egg room
If you are good enough, you will be allowed to the sacred egg room, our second gameplay.
Here is where you have the chance to prove your stubborness.
What are those motivational phrases telling you?
Believe in yourself and make your way through the egg!
And yes... this is technically how the first llamacorn was born!
What we have learned
1. To kill many good ideas, ok... freeze them for a future release.
2. To try something you have never done before, no matter what.
3. The best way to turn doodles into a sprite is... well... not sure about this one as it was a hot mess!
4. The difference between our timezones (@jabba lives in Tokyo)
5. Many Unity secrets (we are completely new to it)
6. That Unity holds MANY more secrets!
7. Which video encoder never to use again! (won't share this :D)
8. How much you can accomplish in a short time when you are inspired and your team is thighter than the deadline.
Where we go from here?
As more llamacorns start to populate the planet, we have plans for more animalcorn madness!!
There will be piggiecorns, bunnycorns...
Working together for the first time and in our first Ludum Dare jam was a lot of fun,
we'd definitely love to repeat this experience and take Spermicorn to the next step!
Hope you have fun playing Spermicorn,
and may you feel a little special too :D
Note: we are currently refreshing Linux and Mac releases. We also plan to further develop Spermicorn into a longer game. We'll keep you updated!
Download
Click download now to get access to the following files:
SpermicornFinalWin.zip
116 MB